Wash Hub Launderette, Dry Cleaning and Ironing for you.
Find us at Lostock Hall, Preston
Here at Wash Hub we offer great Launderette, Dry Cleaning and Ironing solutions for both Commercial laundry and Domestic laundry needs.
Located at Lostock Hall, Preston, Lancashire we are easy to find and we offer ample parking for any customer.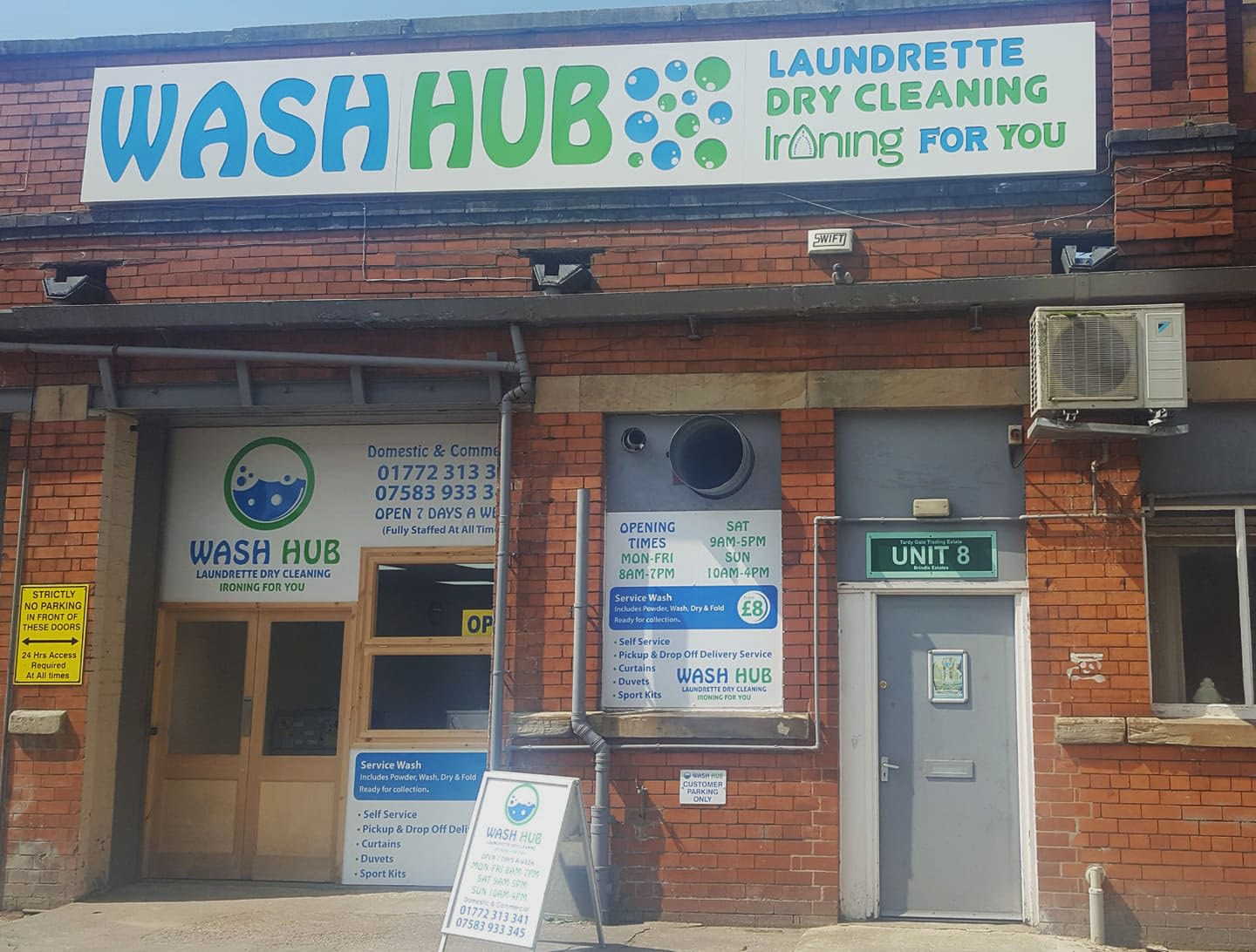 Self Service Wash from £3
Our aim is to make sure you get the launderette service you deserve, making it easier to get your laundry, ironing and dry cleaning done quickly and efficiently.
You can come to our launderette for a self service wash, or you can contact us and with the four simple steps below you will have your laundry finished in no time.
1. You Schedule
Arrange a time that best suits you, we can collect or you can drop your washing off.
2. We Pick Up
We will come and collect your washing. Just let us know where to go.
3. We Wash & Fold
We will clean your washing in a timely order. You'll be very satisfied with your washing.  
4. We Drop Off
We deliver you your clean, crisp washing any time anywhere.
What our customers have to say
"I was on a business trip. Usually, you can't get same-day service wash. The team at Wash Hub done my laundry in just two hours! The guys were terrific, I couldn't recommend this place more."
"Fab service. Been using lately due to having no washing machine at the moment. Washed dried and folded in 2 hours. Nice friendly staff."
We have many Washing Machines and Tumble dryers, you can either come in and use them yourself or get one of our team to do it for you.
Our dry cleaning service will remove any unwanted stains or marks you have on your delicate clothing.
You can drop your laundry off with us and we will wash it, get it dried and folded ready for collection or delivery.
If you have used our launderette for any Service Wash, Ironing, Dry Cleaning or any other service we provide, please leave a us review to tell us what you think. 
Site Map
Privacy Policy
Terms of Use
Cookie Policy
Unit 8, Tardy Gate Trading Estate,
Coote Lane, Lostock Hall,
Preston,
PR5 5JD
It's

Tuesday

23:34

—

Sorry, we're closed
| | |
| --- | --- |
| Monday - Friday | 9:00 — 18:00 |
| Saturday | 9:00 — 17:00 |
| Sunday | 10:00 — 16:00 |